Does Principle Intelligence hold any licenses?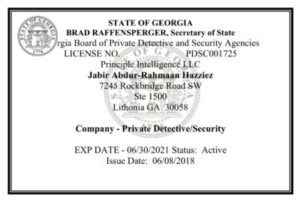 In Georgia, the State Board of Private Detectives and Security Agencies is the governing body that issues operating licenses for security companies in the State of Georgia.
Principle Intelligence currently holds a dual license for both private detectives and security.  Our license number is PDSC001725.
Principle Intelligence does conduct executive protection operations around the country working with out strategic security partners licensed in the areas we work.